Fayetteville-Manlius High School math enthusiasts recently celebrated Pi – the mathematical constant defined as the ratio of a circle's circumference to its diameter – with various activities and contests.
On March 14 (or 3.14), F-M High School's mathematics department hosted an assembly featuring musical performances, a revised rendition of the game show "Family Feud," a Rubik's Cube tournament and a pi digit memorization contest. The special event is held each year to recognize the calendar date, which equates to the first three digits of pi (3.14159…).
Since pi is found in so many different equations in math, physics and other sciences, math enthusiasts consider it to be one of the most important mathematical constants. Pi has been calculated to more than one trillion digits beyond its decimal point, and it will continue infinitely without repetition or pattern, according to Live Science.
Students could purchase special Pi Day 2019 t-shirts in advance of the celebration. The shirts were designed by senior Massimo Giacona and freshman Jennifer Dong and all proceeds from the sale supported F-M Dance Marathon's fundraising efforts for Camp Good Days and Special Times.
Traditionally, the special assembly begins and ends with pi-themed dance routines. Students wishing to participate in the dance troupes audition during an "American Pi-Dol" competition, which is held at school earlier in the year.
This year's student performers included sophomore Kylie Beam, senior Tim Brown, junior Ian Bryant, junior Jason Cho, junior Dan Fiumara, senior Omer Keles, sophomore Evan Krukin, senior Danny Li, senior Rachel Liu, senior Alex Mihaila, senior Anneliese OuYang, sophomore Sadie Reynor, sophomore Kevin Shang, and junior Rebecca White.
Ten students tried their hand at the Rubik's Cube contest – a challenge to see who can solve the colorful puzzle in the least amount of time – including sophomore Ethan Allen, junior Ian Bryant, junior Dan Fiumara, junior Carter Hale, sophomore Madison Krouse, junior Michelle Lim, junior Daniel Popp, junior Allison Ritter, junior Bobby Stewart, and junior Judah Wolfe.
For the third year in a row, Judah and Daniel advanced to the final round. Daniel was again named the Rubik's Cube champion, solving the puzzle in 20 seconds. Daniel's name will be engraved on a special Rubik's Cube trophy that is on display in the math wing.
The pi digit contest, which tasks participating students with writing and reciting digits of pi from memory, featured 18 participants, including senior Leila Abdul-Malak, junior Nihan Erclani, freshman Conrad Gabryszak, junior Leigh Gracia, junior Carter Hale, senior Jack Hannah, freshman Yakob Kelley, sophomore Madison Krouse, sophomore Hashim Naeem, freshman Michael OuYang, junior Daniel Popp, sophomore Alexis Smith, junior Gillian Stuhler, junior Eli Taeckens, junior Sophia Testani, junior Ricky Wan, sophomore Phoebe Wang, and sophomore Becca Ziobro.
Jack and Becca made it to the championship round, with each student verbally reciting a digit of pi. After 134 digits, Jack conceded and Becca was crowned this year's winner. Her name will be engraved on a special Pi Day trophy, which will also remain on display in the school's math wing.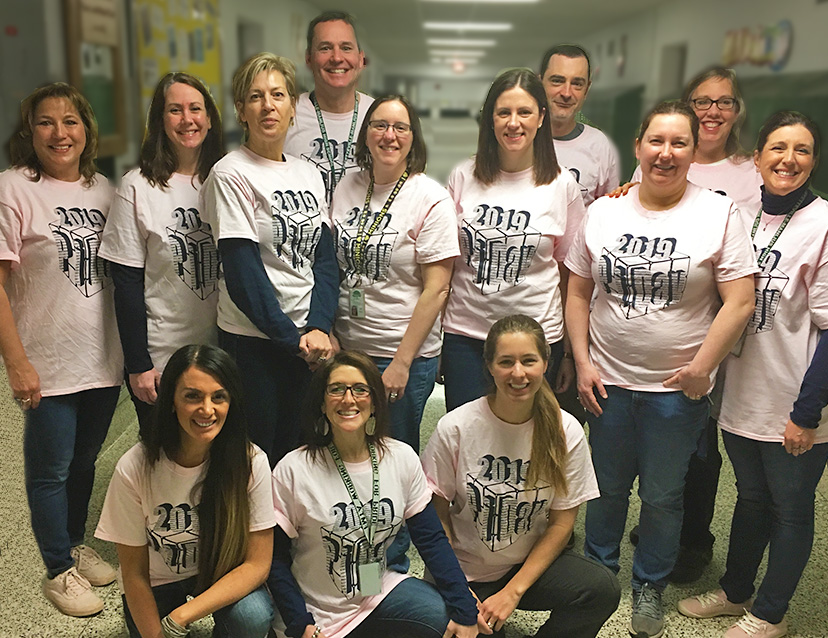 On March 14, members of Fayetteville-Manlius High School's mathematics department gathered together for a photo to commemorate "Pi Day." 
Senior Jack Hannah and sophomore Becca Ziobro were the final two competitors in this year's pi digit memorization contest.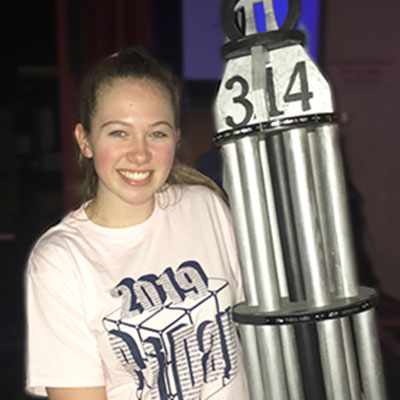 After reciting 134 digits of pi, Becca Ziobro was crowned this year's Pi Day champion.
F-M's math enthusiasts would like to thank the following businesses and people for their support of this year's Pi Day celebration:
Prize donations: Sweet Frog, Café Soleil, Original Italian Pizza (OIP), Pasquale's Slice of Italy, Twin Trees, Pavones Pizza, Murphy's Specialized Pastry, and Domino's Pizza
The entire Math Department, for organizing, hosting and publicizing the events.
Broadcast Journalism classes for promoting Pi Day with morning news features and broadcasting the assembly throughout the school
The staff and student audio-visual team and stage crew
Student-musicians and dancers – for performing our opening and closing numbers.
All of the faculty members and administrators who support the Pi Day assembly.