Two Fayetteville-Manlius High School teachers recently completed four years of intensive professional development through the prestigious New York State Master Teacher Program, earning the titles Master Teacher Emeritus.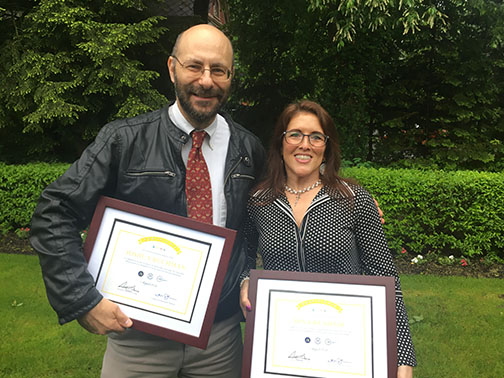 Physics teacher Josh Buchman and math teacher Dina Kushnir were honored June 5 with their cohort during a graduation ceremony at SUNY Cortland.
The four-year Master Teacher program engages participants in peer mentoring and intensive content-oriented professional development opportunities, including regional cohort meetings in which the teachers participate in, and lead, several professional development sessions annually.
In 2013, Governor Andrew Cuomo, in partnership with The State University of New York and Math for America, created the Master Teacher program. Through a rigorous application and selection process, the program highlights teachers across the state who are focused on continued growth in STEM (science, technology, engineering and mathematics) education, according to the state's Master Teacher website. The program develops teachers' knowledge across three domains: content; pedagogy; and students, their families and their communities.
There are more than 900 Master Teachers currently in the program as well as nearly 100 Master Teachers Emeritus, according to the state.  The designation Emeritus is given to those teachers, like Buchman and Kushnir, who successfully complete four years as Master Teachers. Emeriti continue to participate in the Master Teacher network locally and statewide.
The F-M School District has seven other teachers recognized on the state's list of Master Teachers:
Lisa Geraci-Civiletto: Fayetteville Elementary School, math academic intervention services (AIS)
Ben Gnacik: Fayetteville-Manlius High School, science
Elaina Hajduk: Fayetteville-Manlius High School, math
Anne Kelley (Master Teacher Emeritus): Wellwood Middle School, grade 7 science
Nicholas Kirby: Eagle Hill Middle School, grade 7 science
Andra Myers: Wellwood Middle School, grade 7 math
Wendy Blasland: Wellwood Middle School, grade 7 science