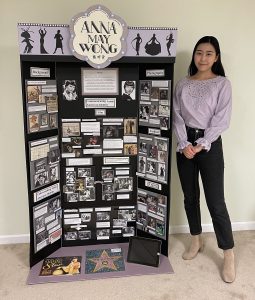 A Fayetteville-Manlius High School rising-senior qualified to compete at the recent National History Day 2021 National Contest where she earned two significant awards.
PeiLin Lu, a member of F-M High School's National History Day Club, was a top 10 finalist in the Senior Exhibit category for her project entitled, "Anna May Wong: Advancing Asian-American Representation through Communication." 
PeiLin's project was also chosen for a special national-level award sponsored by the National Park Service: the Asian American History Prize. 
"Needless to say, we are absolutely thrilled that PeiLin's hard work and talent were recognized at the national level, especially in a year that challenged even the strongest of students," said F-M High School teacher Kristina Jeanneret, who advises the school's National History Day Club with her colleague Justin Polly. "PeiLin truly rose to the occasion and then some." 
The National History Day contest is held annually at regional, state and national levels. Students work independently or in small groups to complete a research project on a topic of their choice that connects to the contest's central theme. This year's theme was, "Communication in History: the Key to Understanding." 
The project presentation can be a research paper, exhibit, documentary, website or performance, according to the National History Day website. Submissions are evaluated by a panel of judges based on historical quality, relation to theme and presentation clarity.
Each state, and several U.S. territories or American schools in other parts of the world, submitted their top two finalists in each category for consideration at the national level. At the New York state level, PeiLin won second place in the Senior Exhibit category. That competition was held April 30, which qualified her for the national competition that was held virtually in June.